DIY Christmas Holiday Decorations
Making our own Christmas holiday decorations is a tradition in our homes.  Whether it be an ornament, decorating a wreath or something to brighten the inside of our house. This year's DYI homemade Christmas decoration idea is so easy and can be used in so many places in the house.  We adorned a strand of white Christmas lights with knotted pieces of Christmas ribbon and burlap.  You  can use it as a Christmas mantel decoration, use this on your Christmas tree or in our case we used it in our kitchen to light up the shelf above our cabinets!  We made this decoration for a recent baby shower using pink tulle so just adapted it for the holidays! Red, green and white tulle would work for the holiday season!
How to make these easy Christmas holiday decorations
Here is all you need: rolls of ribbon and burlap and a 100 bulb clear mini light strand. DO NOT cheap out on the lights.. spend a little extra to get a good set! We used these
G.E String-A-Long Constant ON 100 Miniature Christmas Lights 20.6ft Lighted Length
The reason being is that the last thing you need for this Christmas decoration is
YOUR TIME
. It take some time to tie all the ribbon and burlap in between the lights so that last thing you want is to have the lights burn out before Christmas even arrives. Or have one bulb go out which then causes the whole strand to go out. Plus you really would like to be able to use them year after year. SO splurge on a good set.
We used wire ribbon and wired burlap that were both 1.5 inches wide.  We cut strips of 7 inches of each ribbon before we started. To do our 100 light strand, we used 25 ft of the ribbon and 30 yards of the burlap.  The burlap really adds to the look of these Christmas crafts to make but it is a bit harder to tie.  There are so many great ribbons in the craft stores right now that you could use any combination of colors and textures! Once your ribbons are cut, grab your lights and maybe turn on a holiday movie and start knotting them along the strand. We put one knot of burlap and one knot of the ribbon between each light... all told it took about 2 hours! But it came out so pretty!
Look at how pretty this Christmas holiday decoration looks with and without even lighting it up!  
Here are some more Christmas Holiday decorations and crafts to make that will decorate your tree!
Come and visit our Fun Holiday ideas section.. ideas for decorations, crafts, games, food and more.. We will help you to celebrate the season!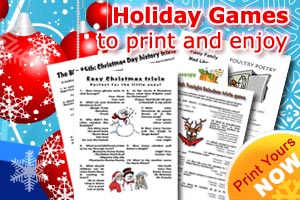 Celebration Ideas

>
Celebrating Christmas and the holiday season

>
Christmas crafts to make

>
Christmas decoration to make
Jump Back to CELEBRATION IDEAS online Home Page
for more family celebration ideas!