Baby Shower Candy Favors
Baby shower candy favors are always a nice addition to any shower celebration. We have used these for a few different showers and everyone always remembers them. Look at these baby shower candy wrappers that were themed for Twins!  So easy -  just buy the 1.55 oz. Hershey chocolate bars, wrap the bars with silver paper that come with the wrappers and cover with these "Peas In A Pod" candy wrapper! I found these candy baby shower favors at BabyShowerStuff.com! I was handing them out to everyone and anyone!! These are available for just one baby too!  My favorite is the back of the label - check out the verbage on the Nutrition facts ... isn't that just too clever. This one was personalized for a baby shower favor. The site gives you lots of options to inscribe exactly what you want.
 It is a great baby shower favor to make that will wow your guests and can also be a part of your dessert table or in our case, we displayed in a bowl for the guests to grab one as they left the shower.   Best of all, these are so inexpensive and a short-cut DIY project as you provide the candy bars and assemble them yourself! Or look at these cute labels for mini-chocolate bars!
You can add your own text to and have on hand in a candy dish on your dessert tables. We were able to personalize these mini chocolate bar wrappers for favors for our twins christening. The kids brought them home to New Jersey to be baptized, thus the tagline on our favors. At
BabyShowerStuff.com
there are multiple options from personalized water bottle labels, to candy wrappers, gift or cupcake tags and cute invitations too. We love personalized and DIY party favors. Take a look at some more that we have created for our baby showers.
DIY Baby Shower Candy favors
If you can make address labels on your computer, you can make and design your own candy labels. We have used this idea for weddings and graduation parties too!  You can those below. Add a graphic and some text and these fit perfectly on a mini Hershey's bar! You can see our free instruction manual here.
| | |
| --- | --- |
| See how this idea works for so many celebrations! | |
Check out this great resource for baby shower favors to make and a fabulous coupon too!

As our families have expanded with the arrivals of babies, we have hosted and been to so many wonderful showers and have done or seen so many creative and easy ideas to make any baby shower extra special! Visit our baby shower ideas section and see them all!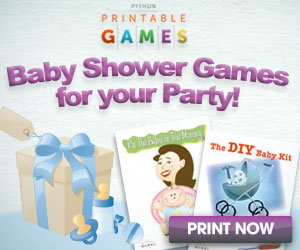 Celebration Ideas

>
Bridal and Baby shower

>
Baby shower ideas

>
Baby shower candy favors
Jump Back to CELEBRATION IDEAS online Home Page
for more family celebration ideas!