Baby Shower Decoration Ideas
Baby shower decoration ideas that are fun and easy! Our good friend and Celebration Ideas Online fan was so great in sharing her ideas from her daughter's baby shower. She knew her daughter was having a girl so she was THINKING PINK!!  Look at these cute as can be baby shower banner ideas! 
How to make these baby shower decoration ideas!
She bought an assortment of newborn onsies, small pink clothespins and a metallic roping which she hung across the mantle.  This was the focal point of the room where our Mom to be would opening her gifts. While this baby shower banner is cute enough.. see how she made the tulle lights to run the perimeter of the fireplace. Keep in mind this would be so easy to do for a baby boy shower too.. just add boy onsies and make blue themed lighting!
All you need it three coordinating colors of tulle, scissors, a string of Christmas lights and some time.  We used three shades of pink from light to bright! You cut strips of the tulle and alternating colors, knot them around the strand of lights.  Grab a helper as it is a timely task but the end result is so beautiful. Just make sure you test your lights first.  We took great care to wrap them carefully at the end of the shower so that they can be reused!  Look at how awesome they look surrounding the banner of onsies!  You can easily envision this being just as cute in shades of blue too!
Take a look at the adorable and affordable baby shower invitations from Tiny Prints and a coupon to help you out too!
Mason Jar Flower Pots
Need more baby shower decoration ideas? Here's an easy and clever idea using the ever popular mason jar. Take strips of tulle.. then line the mason jars with the tulle. Take the jar lid and pop out the circular center, then put the lid on the jar and pull the tulle strips through the top. Next add your flowers and then water. This baby shower decorating idea make the flowers even prettier when you use a deeper shade of tulle. Plus the tulle camouflages the flower stems!
Decorate your table with ribbons
Step by step instructions to use rolls of ribbon to decorate your baby shower buffet table.
Create a baby shower diaper cake!
THINK PINK Baby Shower favors we made ourselves!
Our favorite site for all things Baby Shower
A bib decorating contest...  once done they are part of your decorations! The best bib wins a prize and MOM wins them all!! So fun.. see how we organized this baby shower game!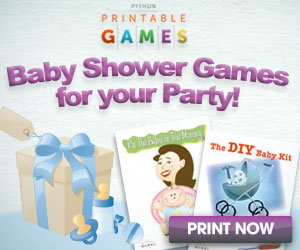 Celebration Ideas

>
baby shower ideas

>
baby shower Diaper Cakes

>
Baby shower decoration ideas
Jump Back to CELEBRATION IDEAS online Home Page
for more family celebration ideas!