Easy Baby Shower Ideas
Baby shower ideas are in here! Our first baby shower was double fun as we planned a special celebration for our impending twins! We wanted to make it extra special and share below some of the baby shower ideas we planned as well as others from friends and family. We love having celebrations at our home so many of the ideas you will find are perfect for a baby shower at home, but you can use them anywhere. Personally created baby shower invitations, favors and decorations are all a part of this section. Plus a wonderful idea for planning a gathering to celebrate the Grandmother-to-be, help her get ready to welcome babies back into her home! You know we are a frugal family.. so rest assured these baby shower ideas are both inexpensive and easy to make too! 

---
Baby Shower Themes & Decorations
---
Baby Shower Favors

Easy to make Baby Shower favors using a THINK PINK theme or celebrating the upcoming arrival of your SWEET PEA!
Cheap and easy baby shower favor that can be a part of your baby shower decorations too! Bags of popcorn since she is "Ready to Pop"... being from Chicago we used an assortment of the famous Garrett's popcorn!
Learn now to make these pretty shower sponge baby shower favors. We love that they are pretty enough to be part of your baby shower decorations or as centerpieces!
Baby Shower Candy .. add to your dessert table or send home as favors!
Baby Shower Game
Fun Baby Shower Game... A fun Baby Shower game or activity... one guest wins and the Mom-to-be goes home with all the entries! Host a bib making contest and watch all the creativity flow. So fun for one and all.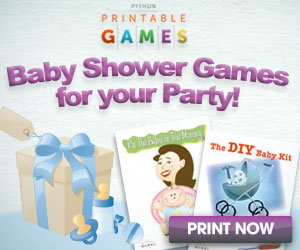 Baby Shower Diaper Cake Ideas
Learn how to make a Diaper Cake for your baby shower...We're sure you've seen them at baby showers.. those pretty, decorated diaper cakes that are either on the table or given as a gift. Well, they are not hard to make.. pick a theme and follow these step by step instructions for making a diaper cake. 
Check out these creative Diaper Cake Themes and Ideas.. pictures too!
Look at our THINK PINK diaper cake and baby shower decorations
---
Baby Shower Desserts
Baby Shower Ideas for Unique Gifts
TURN AN INFANT ONSIE INTO A CUPCAKE!!  CUTEST BABY GIFT EVER
Best baby gift ever and it wasn't even on the registry.. take a look, you will be surprised and definitely add it your own registry or gift it to a new mom or mother-to-be!
---
Ideas to celebrate Grandma & Dad
| | |
| --- | --- |
| How to plan and host a Grandma Shower ... All you need to know about planning these increasingly popular gatherings for the Grandma-to-be! A shower, a girls night out, a celebration all in one fun event!! | Fun Baby Shower Gifts for Dad ... When you're planning a baby shower, don't forget about the Dad-to-be! Here's are clever and creative gift ideas for the new father. |
Celebration Ideas

>
baby shower diaper cakes

>
baby shower favors

>
Baby shower planning ideas
Jump Back to CELEBRATION IDEAS online Home Page
for more family celebration ideas!