Celebrate Thanksgiving Day

5 Ideas to celebrate Thanksgiving if you are away from family
When we celebrate Thanksgiving day it is all about giving thanks. Saying "thank you" is a simple thing, yet we forget its importance all too often. It's hard to overestimate the significance that just these two words can have when said with feeling, honesty, and to someone that we truly care about. But what about when we're far away from the ones we love? What then? One of our visitors submitted these ideas to celebrate Thanksgiving day when you are away from home during the holidays.  They are perfect for Christmas too. We love them! 
It's a sad truth that, while we are connected in ways unprecedented in human history, our messages have lost much of their meaning. With this in mind, here are five fun, funny and creative ways to celebrate Thanksgiving with your family who are far away and can't be with you on Thanksgiving Day.
5 ways to celebrate Thanksgiving Day when you are away from home
#1 Bring the family to where you are!
Our kids did this one for us when we missed summer vacation. They made a poster on a stick and took us with them all vacation and then fed back photos of us at Disney on the rides, at dinner in restaurants, at the beach and more! It was the funniest week ever and made it not so sad to miss out on the vacation!
#2  A holiday game that includes your family who are not with you!
As you gather with your loved ones this Thanksgiving you may be missing some of your family that can't be with you... here is a fun Holiday Trivia game - HOLIDAY RELAY that you play around the Thanksgiving table that includes those not with you.  So you can celebrate Thanksgiving Day with family anywhere! It is a combination of Family Feud and Millionaire... Use your PHONE FAMILY  save to include family and friends who can't be with you! You can download this free Holiday printable game here!
3. The Thanks Box
Everyone has some tokens, things that have a special meaning for them. Maybe it's a movie theater ticket from your first date, or a birthday card your parents sent you. Make a collection of these objects and put them all into a box, adding to each one a special thank-you note that talks about why it's important. Then you can send it to your folks, and they'll be able to see and feel all the ways that you are thanking them.
If you don't want to part with these belongings, then here a tip: make a photo slideshow of yourself holding all of these items with an explanation of each one underneath it. You can send it through YouTube, or, if you want something that's a little bit more personal, try using Minute of Life, a cool program to create your own Thanksgiving greeting via video!
4. An Insiders Crossword 
Who doesn't love getting pretty snail mail? It's even better when it's completely personalized. Here's the idea: create a crossword puzzle that only your family can solve. The clues should be things like your childhood nickname, the name of your first cat, or your part in the middle school play. Then tell them to send you a picture of the crossword when it's all filled in.   Here's how to make your own personal crossword puzzle!
5. A Family Photo Collage
Take your favorite photos of each person and paste them together so it seems like, even though you are all separated, everyone is still together in your heart. Write a little message about why you're thankful to each person. Look at these easy collage cups to use as our homemadeThanksgiving table decorations. Everyone loved them that years! Easy to make and send, here's how to create these photo collage mugs
Celebration Ideas

>
thanksgiving celebration ideas

>
Thanksgiving away from home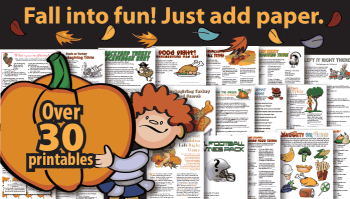 Jump Back to CELEBRATION IDEAS online Home Page
for more family celebration ideas!