Easy Pumpkin Decorating Ideas

Here are some super simple pumpkin decorating ideas that have so many uses for celebrating fall, Halloween and Thanksgiving. I made mine with a fall theme, but turn them into homemade Halloween crafts with orange and black ribbon and a painted face or little Halloween scrapbook icons! You can make these adorable easy Halloween crafts for about $1.15 each. They would be cute in a basket as a Thanksgiving centerpiece. Display them inside or outside and you have fall decorations that will last from September through Thanksgiving!  Take a look below and see we made them.
We bought these small mini pumpkins at a local craft store… only $1.00 each, but wait .. I grabbed them on sale Buy one Get one FREE.. so only .50 cents a piece. Thus my pumpkins cost a grand total of 65 cents each! Grab an assortment of fall colored ribbons, some fall themed florals and some toulle. The only other things you need are scissors and a glue gun and LOOK at these Easy Halloween decorations you can create !
These mini pumpkins are available on Amazon here
3" (80mm) Mini Artificial Pumpkins - Package of 12
for even less!
Use your creativity.. glue on the ribbons, add some pieces of toulle, add some of the fall flowers and you can make your own pumpkin patch. Make sure the flowers you select are small so they don't overpower the mini pumpkins. Also, it's fun to get an assortment of pumpkins in different shapes and colors.

Finally place them in a basket, on a tray or just set them in the center of the table and scatter some leaves around them. You could also use a pretty jar candle and spread them around it. What I love best is that when Halloween is over, you can keep them out straight through Thanksgiving.
These would be a great craft for a Girl Scout troop or Sunday school class community service project. Make these pumpkins and  gift to a local senior citizens organization, hospital or just for their own families. You just need to be sure that the kids are old enough as hot glue can burn. So I would not recommend these homemade Halloween crafts for younger kids. These would make festive Thanksgiving Dinner table favors for all your guests. Or wouldn't they make great adorable bridal shower favors if you are hosting a fall themed bridal shower too? One last creative idea is to make them for your organization to sell at a craft fair. Or wouldn't they be a creative Booster Club Fundraiser to sell at one of the games! As Christmas approaches, box them up and you can use them again next year. These pumpkin decorating ideas just couldn't be easier and no matter what your crafting skills are.. they will look beautiful! Here they are decorating my porch!

Here was our display when we used these pumpkin crafts as favors for our daughter's OckTWOberfest baby shower for twins! We stamped the paper bags with pumpkins to use for our guests to bring home their favor.  This easy fall decoration craft can be used for so many celebrations!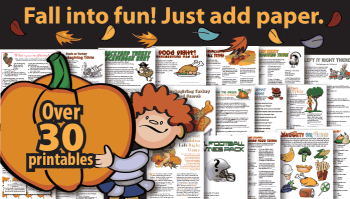 More pumpkin decorating ideas
Celebration Ideas

>
halloween celebration ideas

>
Halloween crafts

>
Decorating pumpkins for Halloween
Jump Back to CELEBRATION IDEAS online Home Page
for more family celebration ideas!