Thanksgiving Crafts For Kids
Here are some easy Thanksgiving crafts for kids. While the turkey is in the oven, have one of these fun activities ready to keep the kids busy! These crafts are all easy and got high ratings in their reviews. Best of all they are "teacher tested" as my teacher/daughter have used these with her class! Always read the reviews as they give helpful hints on making these crafts! Take a look at some of our family favorite Thanksgiving crafts. 
Turkey Decorations for your Dining Room that the kids can make
This festive paper turkey is just way too cute! It is also fool-proof to make, so the kids loved that theirs all turned out so well. We actually hung them all around the dining room for Thanksgiving and they were decorations! You can take a look at this kit for making these fun Turkey Craft Kits
The Thankful Pumpkin Craft
We love this craft as it has the meaning of being thankful included in this Thanksgiving project that the kids can make.This is called the Thankful Pumpkin Craft
the Thankful Pumpkin craft that is on Amazon! It has a 5 star rating! On the pumpkin seeds they write what they are thankful for and then stuff pumpkin with those seeds@
Our Favorite Thanksgiving crafts for kids.. The Giving Wreath
We turned this Thanksgiving craft into a Thanksgiving activity. After the kids had made theirs, they each had to come up with one thing that they were thankful for. Our Thanksgiving "grace" was each of the kids holding their wreath and sharing what they were thankful for in their life. It was great. When done, we hung the wreaths all around the dessert table, by taping them onto the table top edge! Check out this easy Thanksgiving WreathCraft Kit - set of 12
More easy Thanksgiving craft ideas
See how to take a roll of toilet paper and turn it into a Thanksgiving or Halloween pumpkin decoration.. these are the best and easiest Thanksgiving crafts .. no mess and works for all ages!
Thanksgiving Games
For the older kids, who have outgrown their crafting days, organize a Turkey Day Tailgate Toss while the bird is in the oven! Cornhole is a great family game for all ages and will get everyone off the couch for a bit to join in the fun. Here's how to play a Thanksgiving Cornhole Game.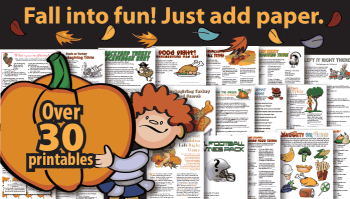 If you liked these Thanksgiving crafts for kids, find more FUN FAMILY THANKSGIVING IDEAS here!
Get ready for the HOLIDAYS.. lots of Holiday ideas for gifts, games, recipes, parties and more!

Celebration Ideas

>
thanksgiving celebration ideas

>
Thanksgiving crafts

>
Thanksgiving crafts for kids
Jump Back to CELEBRATION IDEAS online Home Page
for more family celebration ideas!