A Thanksgiving Decoration Idea




Turn Your Halloween Pumpkin into a Turkey!



This
Thanksgiving decoration
idea came from my creative sister-in-law! It is fun, easy and so clever.. turn a pumpkin into a turkey! Using a kit that has decorative pokes, she turned a pumpkin into a festive Thanksgiving turkey decoration. It would make a pretty
Thanksgiving centerpiece
or can be used to decorate your front steps or anywhere in your house. WE love this colorful and whimsical kit. Look at those country plaid feathers and funny feet! Amazon has this
TURKEY POKE
Here's another  Pumpkin turned Turkey Thanksgiving Decoration
TURKEY POKE 1
He sits welcoming visitors outside my porch door. We will bring him to become our bThanksgiving centerpiece. Best of all, you can reuse every year! Just pull them out of the pumpkin after Thanksgiving, wash and pack away til next year!
A note of caution, these pumpkin pokes are sharp so this is not a project for the children
. It is easiest to put in the pokes if you make a pilot hole first. You can hammer in a thin nail just to get the hole started and then the pokes go in very easily.
Here are some other options for making a pumpkin into a turkey!
Ours is a few years old and but there is an assortment of them on Amazon. Amazon has this cute
Metal Turkey Pumpkin Holder Stand
OR this
Pilgrim Thanksgiving Pumpkin Turkey Making Kit
, love his hat! They are both just adorable too! And again, you can use these year after year!
Look at this Rustic Pumpkin Turkey
that is available on Amazon!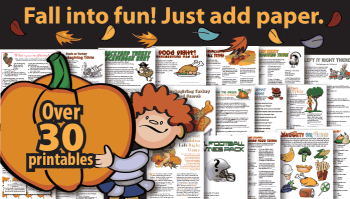 AN EASY THANKSGIVING CENTERPIECE IDEA
You can tell we love traditions and this is a great one! Here is an easy Thanksgiving centerpiece idea!  We recycled our fall decorations for this one. Took down the fall door wreath, put the pumpkin inside it and added our Pilgrim candlesticks!  Could that be any easier??? We are all about re-cycling our seasonal decorations!
 Head back to our THANKSGIVING FUN section for more easy and fun Thanksgiving celebration ideas like this fruit and vegetable Turkey platter. Here we turned a melon into a turkey!!!  How's that for magic!! We have recipes, games and craft ideas too! 
Celebration Ideas

>
thanksgiving celebration ideas

>
Thanksgiving centerpieces

>
Thanksgiving decorating idea
Jump Back to CELEBRATION IDEAS online Home Page
for more family celebration ideas!