A Thanksgiving Dinner Idea
Turn On The Dinner Table Fun
Play Turkey Tunes
We are sharing this Thanksgiving Dinner idea that will add some fun to your celebration. A free print and play game! Our Thanksgiving dinner conversation is always animated thanks to a good game, which I plan each year. At our house, I insist we all eat Thanksgiving dinner together in the same room. We're not all together that often, so it's important that we all eat together in one spot. A few years back all the West Coast cousins came and I had the guys move the furniture from the living room into the dining room, pull the dining table into the living room and add banquet tables. Yes,we pulled it off.. 28 of us plus two high chairs all in the living room and a lively game of Turkey Tunes.
That year I decided our Thanksgiving game theme would be "Sing in the Holidays". My sister had given me a "Name that Carol" list that was circulating her office. I wish I could pay tribute to the original author but he/she is unknown. I used that list, added another dozen clues of my own and "Turkey Tunes.. Sing In the Holidays" was born!
Click below and you will find the songs and the clues. Cut them up and place in a "Thanksgiving decorated" envelope. Add an instant lottery ticket, plus a penny for the scratch off. Put each person's name on the envelope and these also become your placecards! One of my favorite rules to the game: Don't know the answers... you get a family lifeline.. just remember if you win on your ticket, you split with your lifeline! It was great fun. We went one by one around the table, opened the envelope, read the clue aloud and answered. By about the 4th person, everyone was "singing their answer".
Free printable clue cards and answer key for this fun Thanksgiving dinner idea!
So Happy Thanksgiving from our home to yours.. Print and Play and Laugh
TURKEY TUNES, SING IN THE HOLIDAYS

This game is yours for personal use only. It cannot be reproduced for other websites or for commercial use without written consent from Celebration Ideas Online.com
Or check out this great assortment of Thanksgiving printables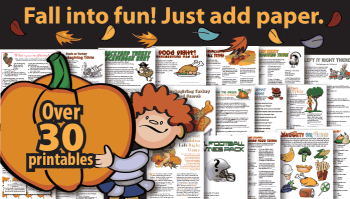 Get ready for the Holidays with more great ideas for Christmas games, creative gift ideas and family traditions!
Celebration Ideas

>
thanksgiving celebration ideas

>
Thanksgiving desserts

>
Thanksgiving dinner idea.. Turkey Tunes
Jump Back to CELEBRATION IDEAS online Home Page
for more family celebration ideas!