Thanksgiving Printables

These Thanksgiving printables are a fun and funny way to share the spirit of Thanksgiving. If you've enjoyed the Halloween activity of Ghosting or Boo'ing, then you will love this.. GOBBLE someone special this Thanksgiving! What's it all about? This Thanksgiving activity is so easy. Choose someone - a neighbor, friend or family member- for whom you are thankful and decorate their front door with the adorable You've Been Gobbled poem! Everything you need to start this Thanksgiving tradition is right below!

To get started, talk with the kids about Thanksgiving and its historical roots of the Pilgrims and Indians joining together in thanks and sharing. Here is a good children's book -
Thanksgiving Is for Giving Thanks
perfect to read before you begin! Next the fun really starts! Put together small goody bags with some candy or home baked goods. Tie with ribbon and attach this poem! Now head out to "Gobble" your special person. Leave the treat bag and
attach the "You've Been Gobbled poster" to their door
!
Print our free "You've Been Gobbled" kit here
Directions, the poem and the poster included

MORE THANKSGIVING PRINTABLES
Here is another great vendor with tons of fun Thanksgiving printable games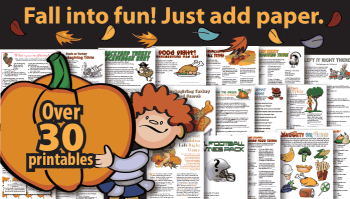 Learn how to spread the Holiday Spirit... Jingle friends and family.. another free print and play to start a Holiday tradition for your family!

Celebration Ideas

>
thanksgiving celebration ideas

>
Thanksgiving printable game

>
Thanksgiving printables
Jump Back to CELEBRATION IDEAS online Home Page
for more family celebration ideas!