Thanksgiving Table Decorations

Make a Beautiful Thanksgiving Table Centerpiece
Thanksgiving table decorations that are so easy..make a Thanksgiving centerpiece using fall decorations. My Mom shared this one with me and it couldn't be any easier or cheaper. Then take a look at how to recycle your Halloween pumpkins and autumn door wreath and make them into pretty Thanksgiving decorations.  You can make it in under five minutes and it costs you nothing!
How did Grandma do it? She took down her fall wreath, then bought a pumpkin from the craft store that was on sale for 75% off, so cost for it .. $1.29. Since it is after Halloween, all the autumn and Halloween decorations are unbelievably cheap. Put the pumpkin in the center of the wreath and it makes for a beautiful Thanksgiving centerpiece. For mine, I found 2 wooden Pilgrim candlestick holders in the attic. Thinking those were from one of the kid's school projects! Lesson learned, don't throw anything out! Dusted them off and added to the Thanksgiving centerpiece. An extra cute touch! Now that your table is ready, plan a fun family game while you are eating. Two of our favorites are Turkey Trivia and Turkey Tunes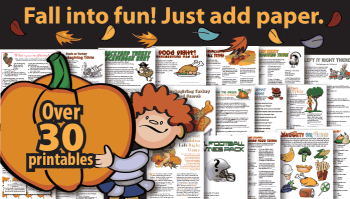 Here is how they looked when used as Thanksgiving table centerpieces.. place them on your dinner table or on your buffet or dessert table! So don't be too quick to put that fall wreath up in the attic! 

More easy  DIY Thanksgiving table decorations
Love these ideas using your autumnal pumpkins straight through to Thanksgiving. Don't be so quick to throw them out !  Pick up some spray paint in a variety of metallic and fall colors. Use different shapes and sizes  of pumpkins to make your decoration even more interesting. ons using your pumpkins. Or turn your Halloween pumpkin into a turkey with these cute pumpkin pokes!

Thanksgiving crafts the kids can make and use as your decorations!
See how the kids can turn a roll of toilet paper into  these Thanksgiving Decorations all by themselves!  The only other supplies you need are, sticks from the yard, ribbon and fabric squares! They can decorate while you cook the turkey! Get started by taking them on a nice walk to gather their sticks, which become the pumpkin stems!

More FUN THANKSGIVING IDEAS here.. games, recipes and decorating ideas

Celebration Ideas

>
thanksgiving celebration ideas

>
Thanksgiving decorating ideas

>
Thanksgiving centerpieces
Jump Back to CELEBRATION IDEAS online Home Page
for more family celebration ideas!