Unique Baby Shower Favors To Make

 I was on a mission to find unique baby shower favors when a good friend shared with us the Bouquet centerpieces that included the favors for their guests.  Using a theme of "From Our Shower to Yours" she created these adorable shower sponge flowers. She shopped to get the right colors to match the theme of the shower.  They looked just adorable on the tables!
Look at this adorable display which cost so little. We will show you how to make the "flowers" and our creative friend put them in a basket and accented with tissue paper to make for cutest centerpieces and practical baby shower favors for the guests!
Buy colorful nylon
Bath and Shower Sponges
. They are available in lots of different colors so you may even be able to match your baby shower color theme. Next get
12" Wooden craft Dowels
or
Disposable Chopsticks
that you push up into the sponge and then wrap the cording around the stick and secure with washi or floral tape. Cover the tape with ribbon and tie a bow. You can add a little baby themed charm like these
Small Blue or Pink Pacifiers
or as we did a rattle. Finally a gift tag that says "From Our Shower to Yours". Now insert them into the basket or vase and add some tulle or tissue paper and you have created an adorable multi-function shower centerpiece as well as your thank you favors!
Here are our finished unique baby shower favors
Here they are all nicely placed into a white wicker basket.. They looked so pretty at the shower! And for a large guest list, these are inexpensive to make!  If you want you can trim the length of the dowels to make them fit more symetrically into your vase.
Here's a centerpiece that is also a gift for the Mom!
While you are crafting for the guests, why not make the Mom To Be a beautiful and useful Diaper Cake.. see our free e-book with step by step instructions on How To Make A Diaper Cake!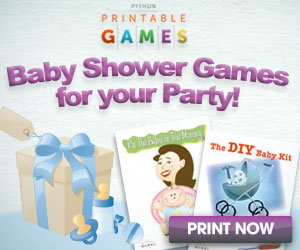 We have lots more creative and fun baby shower ideas 
Celebration Ideas

>
Bridal and Baby shower

>
Baby shower ideas

>
Baby shower favors
Jump Back to CELEBRATION IDEAS online Home Page
for more family celebration ideas!